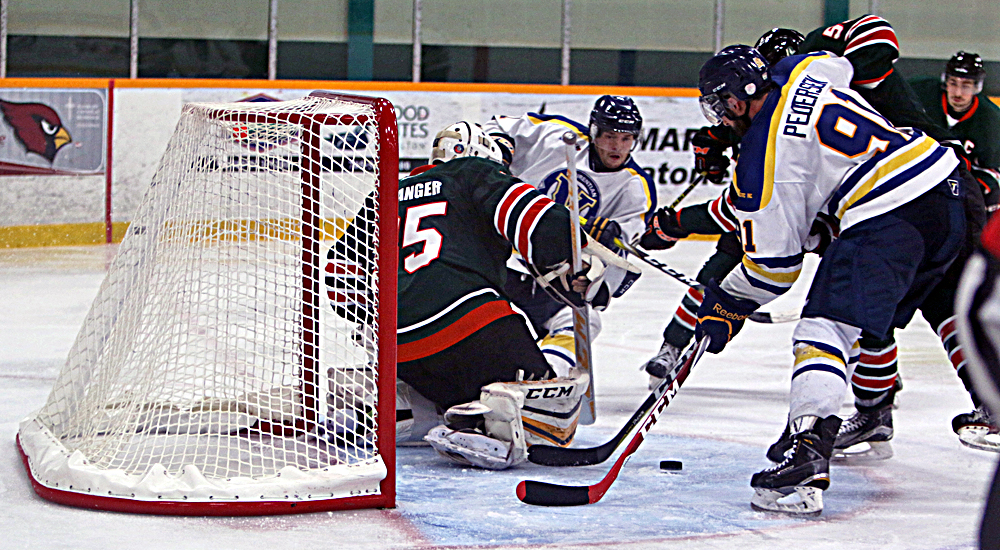 On Saturday night, the Voyageur's mens hockey team battled it out against the top seeded McGill Redmen, eventually losing 5-4 in overtime in a first round playoff preview.
McGill struck first, as Jerome Verrier found a way to beat
Charlie Millen
on the powerplay at 8:48.
Nicolas Dionne responded for the Voyageurs late in the first period, tying things up with just 45 seconds remaining.
However, McGill was determined to head into the first intermission with the lead, and restored a one goal lead with just two seconds remaining, this time off the stick of Christophe Lalonde.
McGill then doubled their lead early in the second as Jasmin Boutet scored at 5:02, giving the Redmen a 3-1 lead.
The Vees responded again at 14:54, as Scott Pedersen dashed through the neutral zone and then scored his first career OUA goal as he went bar down on Jacob Gervais-Chouinard.
In the third period,
Dylan Fitze
finished off a solo rush by powering a shot through the pads of the McGill goaltender and watching the puck trickle over the goal line for the tying marker.
McGill, showing why they're the top seeded team, regained their lead just seconds later for the second time, this time from Samuel Tremblay at 5:50.
Nick Esposto was having himself a weekend when he scored his third goal in two games, tying the game with a nifty play in tight on the McGill net. Esposto's goal at 12:56 was assisted by Graham Yeo and Elliott Richardson and would send the game into overtime.
McGill wasted no time ending the game, needing just 14 seconds in overtime. Simon Tardif-Richard crossed over the blueline and snuck a long shot over the blocker of
Charlie Millen
, earning the Redman the overtime victory.
Despite the loss, the Voyageurs playoff position remains unchanged and they will play the first game of the first round of playoffs on Wednesday against the same McGill squad. The playoffs get underway on Wednesday night at Countryside Arena.
Riley Brooks
Sports Writer